Search Our Agents & Offices
Let us help you find an agent or office near you.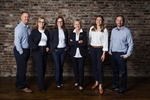 The Young-Fish Team
REALTOR, ABR
License Numbers: ME BA917097, ME BA916260
This award winning team has marketed, managed and/or processed nearly 500 million in sales with over 40 years of combined experience and 5 full time agents. Carolyn, Jason, Scott, Melissa and Lindsae (The Young/Fish Team) have an outstanding record of service, systems, technology, resources, experience and success that can't be matched. They are recipients of several distinguished awards and designations, including top awards for all of New England. They have specialized in waterfront, unique properties, new construction, investment properties, retirement properties, 1031 exchanges, first time home buyers, and, of course, traditional residential properties. Carolyn has been to Europe to promote Maine properties and represented clients from all over the world, earning the Credited Consumer Real Estate Consultant designation. She is also certified by several relocation companies to represent properties involved in the transition of their employees. Jason, has earned the top New England award for administration, has advanced experience with new construction, investment and rehab properties. Lindsae has her Masters in Business, and quickly evolved with her natural talent and skills. She excels with clients and has become a major contribution to the team.
Prior to becoming a Realtor, Melissa was a licensed cosmetologist for over 20 years. During that time she also became a business owner by opening up her own hair salon in Bangor. One of her favorite things about being a business owner and cosmetologist was the bond she was able to create with her clients, many of whom are now forever friends. Before getting into Real Estate Scott worked as a law enforcement officer for 25 years in the community he was born and raised. Scott and Melissa both have a passion for real estate and dedication to all their clients, which is a driving force behind their success and positive feedback. Together they work hard to ensure that their clients can rest easy knowing that they have an honest, dedicated professional to guide them through any real estate avenue they wish to pursue.
Each team member excels in every aspect of real estate, with superior services for both buyers and sellers. They have lived, played, worked and been active throughout Maine and part of the real estate profession for many years. Team members include past board President, Co-Chair of Professional Standards, current Director of Board of Realtors, New England's Top Administrator of The Year and past Realtor of The Year, to name a few. Our team's backgrounds include degrees in Business Management, Marketing, Computer Science, Law Enforcement, Hospitality Management, Accounting and Business Owners. This created a strong foundation for their evolved success. If you are considering buying or selling real estate, call the team who has a proven track record and endless testimonials of satisfied clients.
57 Washington St., Bangor, ME 04401
More about The Young-Fish...
What do you like to do when you're not selling real estate?
Spend time at the lake house on the water with family & friends.
Your favorite thing about your neighborhood?
All the wonderful neighbors and a lake in my front yard.
Where did you attend college?