Search Our Agents & Offices
Let us help you find an agent or office near you.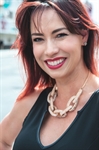 Kimberly Fleming
License Number: 177467
If you are looking to buy a new home or sell your own house and want someone skilled and dedicated, in your corner 100% of the time, with 100% of her being, then I'm your agent. I am committed to helping my clients achieve their real estate goals quickly and successfully. I love the feeling I get knowing I helped a Buyer acquire their dream home or accomplish their goal of purchasing a wise investment property, it fills me with warmth, meaning and achievement. I also thoroughly enjoy facilitating a sale for a Seller, knowing that I have allowed them to move on to their next goal, be it a more suitable home for their family or another more yielding investment. When I am not at the office or in the field, I serve as a mother of three beautiful children and wife to one gorgeous man. I love my family and what I do professionally … my life is good. I'm still working on the balance part but, isn't everybody?
9800 W. Skye Canyon Park Dr, Suite 170, Las Vegas, NV 89166
Recommendations
Kim was especially great in the purchase process. She was proactive and informative.